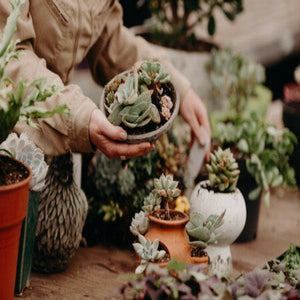 Bring the beauty of succulents into your home with our Succulent for Success planting workshop led by our expert succulent specialist Laurie!
Each participant will receive a personalized succulent kit that includes a planter, a variety of hand-picked succulent plants, specialty soil, and expert instructional design from our professional team.
Workshop fee is $55 + tax. This includes 2 hours of hands on education about succulents and your very own planer to take home and enjoy!
Workshop Dates:
Saturday, Sep 23 from 10am-12pm
Saturday, Nov 4 from 10am-12pm 
This workshop will be held at the Down to Earth Nursery in Metchosin, 1096 Derrien Place. Reserve your spot today!